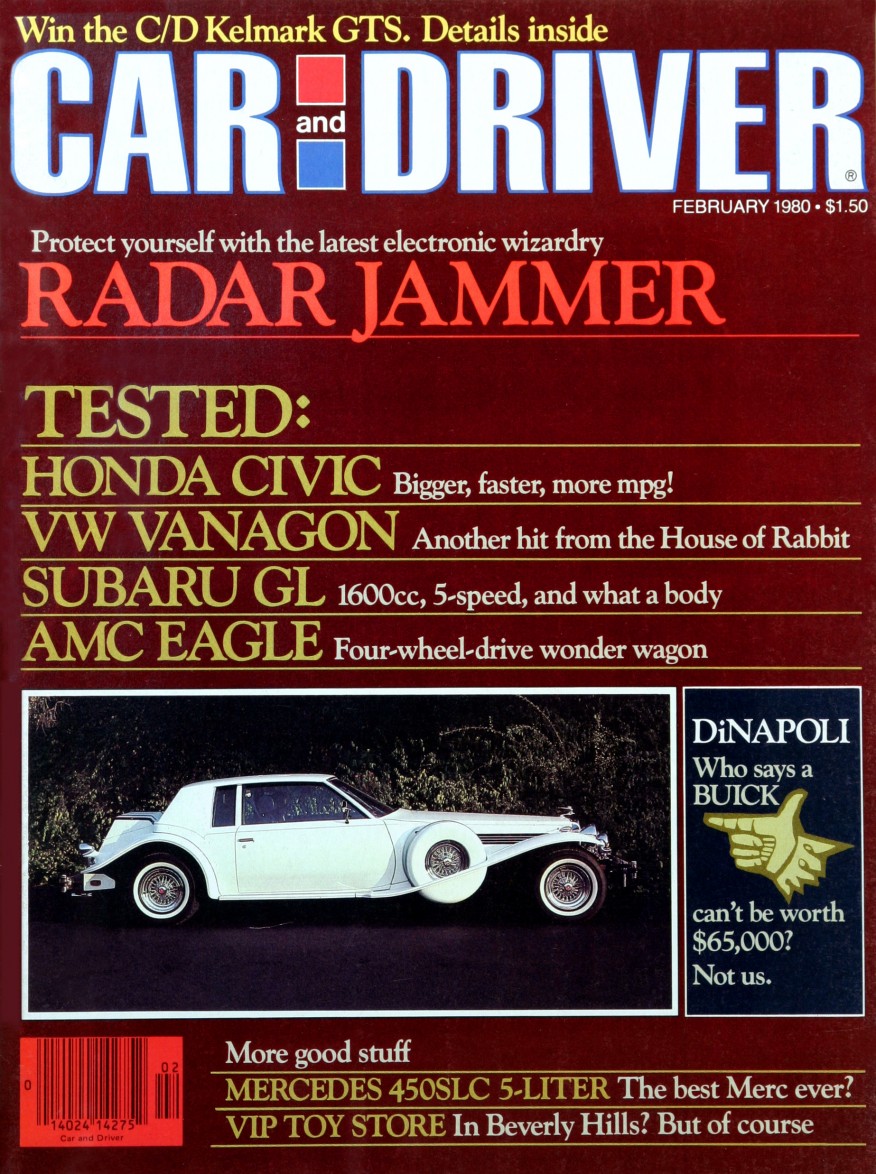 The Review
Another hit from the House of Rabbit, syncro test – Car and Driver, February 1986 by Larry Griffin
source: Syncro.org – roadtest
The box. The box on wheels. The box on wheels as people mover. The fancier box on wheels as people mover and camping contrivance. The ultimate box on wheels as people mover and camping contrivance and almost-never-get-stuck-in-the-mire-and-ice four-wheel-drive device.
One look at the new Vanagon Camper Syncro and you can see how the brains work at Volkswagen. VW is so logical – bing, bing, bing, one piece of logic after another, straight to the Vanagon Camper Syncro. It pretty much does everything a camper could possibly do, carrying six people, sleeping four on the premises, removing the rough from roughing it, and taking you where weather or terrain would have kept you out before. But not so simple that anybody beat VW to it.
What's interesting is how VW arrived at the Syncro solution (you'll love the movie). Not for nothing have the company's chassis technoids been tiptoeing around the lab playing slap-and-tickle with Audi's 4wd fanatics. But Volkswagen's implementation of four-wheel drive propels this box over new ground.
As in all rear-wheel-drive Vanagons, VW's flat-four engine is mounted beneath the floor in the rear. Under normal dry conditions, the Syncro utilizes only rear-wheel drive, just like the regular Vanagon, but the Syncro adds a driveshaft that also makes power available to the front wheels. The driveshaft and the power arrive between the front wheels at a clever juncture in the evolution of four-wheel drive. Under low- traction conditions when the rear wheels lose grip and the speed variance between them and the front wheels exceeds six percent, a viscous coupling between the front wheels automatically steps into action.
The viscous coupling is filled with a silicone fluid patented by Volkswagen. The transmission of torque to the front wheels is continuously and infinitely variable, and the delivery is so smooth that occupants are generally unaware of anything except nonstop motive traction. For times when extra grunt is needed, the Syncro's willowy shift lever can be plunked back into an extra-low gear that has been added to the regular four-speed. For maximum mobility when the going gets really tough, an optional system activated by a dash button locks and unlocks the rear differential by means of a vacuum servo.
The Syncro package is also available on the regular Vanagon GL. Having given us a way to get into and then out of the boondocks, Volkswagen went all the way for us, kitting up our test Syncro in the all-singing, all-dancing, Westfalia-built Vanagon Camper package, which comes with everything but maid service. It's true that some nifty little Japanese- built, vanlike wagons are out there puttering around on four-wheel-drive systems that let you poke your nose into the outback, but none provides the pop-up roof, the walk-about space, or the fold-out bed you find in Germany's hideaway Hilton. On the other hand, none of them has the Vanagon Syncro's drawbacks, either.
But first, the good part. When Mother Nature throws a tantrum, you can pretty much ignore weather bulletins. Even when the clouds squat down and extrude their yuckiest stuff, four-wheel-drivers such as the Syncro are the best way out. We are smitten with this one's Synco-nicity. It rides well, steers beautifully, and handles better than its height would suggest. You feel the grappling of gravity and height, but the Camper Syncro is vastly more stable that the tipsy-twirly VW Microbuses that lurched astray.
The Camper Syncro's all-up weight tips in at a hefty 4000 pounds. We look forward to the day when advancing technology reduces the 330 pounds that the Syncro option adds to the 3670-pound Vanagon Camper, which itself adds 350 pounds atop the base Vanagon. In Volkswagen's defense, part of the added weight comes from protective cages and a skid plate placed around the 4wd components. In this case, a hundred pounds of prevention is worth hundreds of dollars of cure.
Despite the 4wd system's added weight and height, the Syncro gives a surprisingly good account of itself over the road. Its controls are direct, effective, and full of feel. Understeer is moderate, and the tracking is very good, except when crosswinds buffet the box, which is even taller than normal because of the extra inches of the pop-top housing. (Skidpad adhesion is reasonable at 0.65 g.) Seating, especially for passengers, is as upright as the Vanagon shell. The relationship between the driver's seat and the pedals may make some driver's feel vaguely ill at ease because their leg leverage is less than ideal.
The brakes – front discs and rear drums – provide outstanding stopping power despite their burden, cinching you down from 70 mph to 0 in a brief 191 feet, with fine behavior and no fade. Of course, the Syncro is no ball of fire, and its lengthly trips back up to 70 mph benefit brake cool-down. A rush down a mountain, however, might reveal brake fade. Still, these are very good brakes.
An enlarged and upgraded engine does its best to offset the Syncro's weight. A longer stroke stretches the horizontally opposed, water- cooled four's displacement from 1.9 to 2.1 liters. An 8.6:1-to-9.0:1 increase in compression ratio adds punch, and a new electronically controlled engine-management system called Digifant delivers better drivability. The payoff is eleven percent more torque and an increase from 82 to 95 horsepower. That's still not much in a 4000-pounder, as borne out by the Syncro's 0-to-60-mph amble of 18.3 seconds. If the revs drop too low, the engine pauses a moment to rest, but its overall feel is one of purpose, not concession. Its likable ruckus is reasonably well muted and somehow conversational, and its mid- and top-end pull encourages you to keep after it, right up to the Syncro's 79-mph top speed.
Although we love making good time on the way to the wilderness, we have been spoiled at the hands of other small vans. We don't like having to clamber up over the Vanagon's front-wheel arch to get in and out, especially when it's coated with grime. And most people don't like sitting right up there in the van's nose, where, if they have a bad accident, THEY will have the accident.
We have been spoiled by the livability of, for instance, the Chrysler vanlets, which are more carlife and comfortable to drive than any other minivans you'll find. Then again, most little vans are not truly serious abut being at one with the wilderness. They don't provide the Camper Syncro's four-wheel drive, its oversized gas tank, its optional refrigerator, its room to stand up and stretch, or its cabinets to swallow your stuff. And, shoot fire, boys, not only do they not give good bed, they don't give it at all.
Some data
Vehicle type
Rear engine, 4-wheel-drive, 6-passenger, 4-door van
Price as tested: $18,940
Options on test car:

$16,875 base Volkswagen Vanagon Camper
$575 AM/FM-stereo radio/cassette
$380 power steering
$350 metallic paint
$275 locking rear differential
$165 rear wiper washer
$320 freight

Standard accessories:
Sound System:

VW Design AM/FM-stereo radio/cassette, 4 speakers
Drivetrain
| | |
| --- | --- |
| Transmission | 5-speed |
| Final-drive ratio | 4.86:1 |
Transmission ratio
GEAR
RATIO
MPH /
1000RPM
MAX MPH
@ RPM
low
6.03
2.5
14@5400
1e
3.78
4.0
22@5400
2e
2.06
7.3
39@5400
3e
1.23
12.3
66@5400
4e
0.85
17.7
79@4450
Brakes
| | |
| --- | --- |
| Front | 10.9 x 0.5-in disc |
| Rear | 9.9 x 2.2-in cast-iron drum |
| Power assist | vacuum |
Braking
| | |
| --- | --- |
| 70-0 mph@ impending lockup | 191 ft |
| Modulation | excellent |
| Fade | none |
| Front-rear balance | good |
Test acceleration in seconds
| | |
| --- | --- |
| 0 – 30 mph | 4.5 |
| 40 mph | 7.4 |
| 50 mph | 12.2 |
| 60 mph | 18.3 |
| 70 mph | 30.6 |
Top gear passing time
| | |
| --- | --- |
| 30 – 50 mph | 17.5 |
| 50 – 70 mph | 29.0 |
| Standing 1/4 mile | 20.8 sec @ 64 mph |
| Top speed | 79 mph |
Fuel economy
| | |
| --- | --- |
| EPA city driving | 15 mpg |
| EPA highway driving | 17 mpg |
| C/D observed fuel economy | 16 mpg |
Engine
| | |
| --- | --- |
| Type | flat 4, aluminum blcok and heads |
| Bore x Stroke | 3,70 x 2,99 in., 94,0 x 76,0 mm |
| Displacement | 129 cu. in. / 2110cc |
| Compression ratio | 9.0:1 |
| Engine-control system | Digifant electronic with port fuel injection |
| Emissions controls | 3-way catalytic converter, feedback fuel-air-ratio control |
| Valve gear | Pushrods, hydraulic lifters |
| Power (SAE net) | 95 bhp @ 4800 rpm |
| Torque (SAE net) | 117 lb-ft @ 3200 rpm |
| Redline | 5400 rpm |
Chassis / body
| | |
| --- | --- |
| Type | unit construction with 1 rubber- isolated crossmember |
| Body material | welded steel stampings |
Suspension
| | |
| --- | --- |
| Front | ind. unequal-length control arms, coil springs, anti-roll bar |
| Rear | ind. semi-trailing arms, coil springs |
Wheels & tires
Size
5.5 x 14 inch
Type
Stamped steel
Tires
Michelin MXL
205/70R-14
Pressure, F/R
36 / 40 psi
Interior sound levels
| | |
| --- | --- |
| Idle | 53 dBA |
| Full-throttle acceleration | 81 dBA |
| 70-mph cruising | 80 dBA |
| 70-mph coasting | 79 dBA |
Interior
Front seats
bucket
Seat adjustments
fore and aft,
seatback angle
General comfort
good
Fore and aft support
fair
Lateral support
good
Handling
| | |
| --- | --- |
| Roadholding, 300-ft-dia skidpad | 0,65 g |
| Understeer | moderate |
Coast-down measurements
| | |
| --- | --- |
| Road horsepower @ 30 mph | 9 hp |
| 50 mph | 27 hp |
| 70 mph | 63 hp |
Meer syncro posts
Over de 4×4 van Volkswagen is veel te vertellen, dus hieronder meer informatie over syncro's.